If you are an athlete or a person who is regularly active, you may often find yourself pushing your body to its limit. Sports massage or recovery massage can help you improve your flexibility, reduce your risk for injury, and boost blood circulation throughout the body. If you want to keep your body healthy while promoting optimal performance, sports massage might be right for you. Read on to find out what this type of massage entails and how it can benefit your body.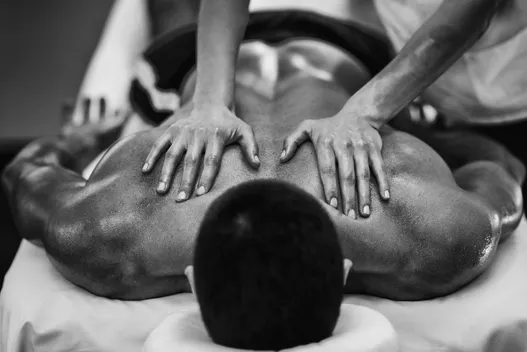 What is Sports Massage?
Sports massage is geared toward athletes of all levels, from those who participate in competitions to those who just exercise regularly for their health. As different sports work different parts of your body, your massage therapist will tailor your sports massage to the specific sport that your participate in. This allows them to work the areas of your body that are stressed or overused due to repetitive or aggressive movement.
Sports massage can be used to prepare your body for optimal performance pre-race. It's important that athletes schedule a sports massage a few weeks before their race or event to minimize soreness the day of. Recovery massage is a type of sports massage that is used to help the body repair itself after a competition or injury. Recovery massage within a few hours or days after the event helps promote quicker muscle repair and offers pain relief.
Benefits of Sports or Recovery Massage
There are many benefits of sports or recovery massage. Here are just a few ways that this type of massage therapy can help you as an athlete:
Enhance Performance – A sports massage can help you maximize performance during training or at an event. A massage tailored to your specific needs can help improve flexibility, reduce fatigue, and increase endurance, which helps you prepare both your body and mind for optimal performance.
Reduce Recovery Time – Massage therapy increases blood circulation in the body, helping your muscles get the blood flow they need to repair quickly. Both a pre-event and recovery massage can help you reduce the amount of time it takes your body to recover from a race or competition.
Prevent Injuries – Sports massage can also help you prevent injuries. By improving flexibility and promoting blood flow, routine massage therapy visits can help prepare your body for regular and repetitive movement.
Relieve Pain and Tension – A recovery massage can be used to relieve pain and muscle tension that results from intense competition or injury. Your massage therapist will tailor the massage session to your needs, targeting the specific areas that are overworked or in pain.
Palo Alto Recovery Massage
If you are experiencing pain from a sports injury, our Palo Alto recovery massage therapy services can help relieve pain and get you back on the court or field faster and safer. At Reimer Wellness Center, our licensed massage therapists are experienced in providing recovery massage for athletes and those who are regularly active. To make an appointment today, call: (650) 492-607