Palo Alto and Los Altos Body Health
If you are good to your body, your body will be good to you. Our goal at Reimer Wellness Center is to help you provide the goodness your body deserves so you may enjoy optimum health. Our Palo Alto body health center offers a wide scope of services that can help you look, feel and function your best, just the way nature intended. Our Palo Alto and Los Altos chiropractor Dr. Mary Reimer knows comfort is a major part of feeling good, which is why our wellness center begins with its feel-good vibes the moment you walk in the door with a cozy and welcoming atmosphere.
Body Health is More than the Absence of Disease
To help you achieve overall body health, it first helps to understand what it is. The body was designed to function based on a series of intricate systems, all of which work at their optimum capacity when your body is properly nourished, coordinated, and balanced. Enjoying total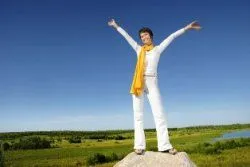 wellness is more than simply not suffering from ailments or diseases. It is instead the ultimate balance, coordination, and nourishment that keep all of your systems harmoniously humming along. Our Los Altos wellness center can play a major role in maintaining that happy harmony.
Our Palo Alto chiropractor focuses on holistic care, which means every system and aspect of your body is a concern in our treatments. If one system is not functioning properly, several others can be affected. Our healing arts of chiropractic care, massage therapy, Graston therapy and physiotherapy can all contribute to your overall health and wellness.
Chiropractic care is one of the basic foundations of the healing arts, focusing on the balance and coordination of your body's foundation: the spine and musculoskeletal system. If your body's foundation is out of balance, it is difficult, if not impossible, for the rest of the systems to function at their optimum capacity. Our Palo Alto chiropractor Dr. Reimer can provide adjustments to ensure your spine is properly aligned and your body's foundation balanced.
Other therapeutic techniques that are part of our Los Altos healing arts repertoire are physiotherapy, massage therapy and Graston therapy. Massage therapy, our range of physiotherapeutic methods and Graston therapy are aimed at targeting a specific area or issue that may need attention to achieve full functioning, flexibility and healing from various ailments or conditions.
Benefits of optimum overall health and wellness are immense. Not only will your body feel great and function at its fullest capacity, but your immune system and energy levels typically receive a major boost. It generally reduces your risk of ailments and disease. Your mood and outlook can also improve, with the health benefits extending into the mental realm to provide an increased sense of happiness and well being.
If you would like to achieve your optimal body health, call us at (650) 949-3232 today.