Chiropractic Care from Our Los Altos Chiropractor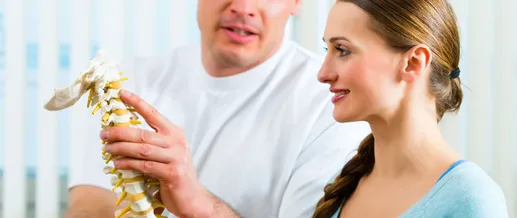 If you always thought of a chiropractic care purely as a solution for acute back or neck pain, you'll be amazed to learn about this healing practice's true power to help the body heal. Chiropractic care has become a popular, time-tested alternative to surgery and prescription painkillers for a variety of painful conditions. Better yet, it's safe, it works well with other natural healing modalities and in the hands of our experienced Los Altos chiropractor, Dr. Mary Reimer, it is also highly effective. Let's examine some of the ways chiropractic care at Reimer Wellness Center can improve your quality of life.
The Whole-Body Benefits of Chiropractic Adjustment
Chiropractic is a Greek term meaning "done by hand," although our Los Altos chiropractor makes use of both manual and instrument-based chiropractic techniques. This healing modality focuses on correcting alignment problems in the joints of the spinal column and extremities. Even a slight dislocation within a joint (a problem called subluxation) can impair the joint's flexibility, causing stiffness and pain. The abnormal range of motion may affect your stance, posture, gait or balance, which strains the supporting muscle groups even as it worsens the misalignment. If spinal discs or other structures press against major nerve roots, the problems may extend to the entire body through referred pain signals and impaired communications to your major systems, affecting everything from reproductive health to immune function.
Dr. Reimer can correct the joint alignment issues that accompany auto accidents, sports or workplace injuries and age-related degenerative conditions. After carefully pinpointing the subluxation, short, quick thrusts apply high-velocity, low-amplitude force to the joint, repositioning its components to restore pain-free freedom of movement. This can help bring your entire body back into balance, relieving both soft tissue strain and nervous signaling problems to help you experience new heights of health and wellness.
How Our Los Altos Chiropractor Integrates Chiropractic Care with Other Modalities
Our Los Altos chiropractor can use multiple chiropractic techniques to address every aspect of your well-being. In addition to the traditional manual techniques for larger adjustments, Dr. Reimer can also make use of handheld instruments that deliver high-speed adjustments in an extremely precise manner. Chiropractic care is also complemented by other healing therapies such as massage therapy, Graston Technique, orthotics, and forms of integrative medicine such as physical therapy and soft tissue rehabilitation. Our holistic healing plans can combine all of these modalities to target your specific needs and goals, from acute injury relief to chronic pain management and preventive wellness care for the whole family.
Call Reimer Wellness Center to Give Your Heath an Adjustment
If you want to give your health, wellness, comfort or injury rehabilitation a profound adjustment for the better, start with the chiropractic and other healing services at Reimer Wellness Center. Call (650) 949-3232 to set up an appointment at Reimer Wellness Center and discover what chiropractic care can do for you!