Integrated Care: Massage Therapy & Chiropractic in Los Altos
Welcome to Reimer Wellness Center, where we provide integrated care for all your aches and pains. Whether you are a new patient of ours or an old friend, we invite you to learn about the integrated therapies we offer at our wellness center, massage and chiropractic, and how they can benefit your overall wellness.
Chiropractic Benefits
By realigning your spine, our chiropractic care naturally reduces pain and inflammation without the use of medication. If you have been in an accident, have a repetitive strain injury, or have back or neck pain, chiropractic will not only reduce your pain but prevent it from coming back. When you combine our adjustments with the lifestyle advice and corrective exercises we deliver, you will find that chiropractic is a highly effective pain management strategy.
Massage Benefits
In addition to being a powerful stress reliever,massage therapy benefits your body by reducing muscle tension and releasing toxins from your body. Massage also helps your body circulate blood, bringing fresh blood into muscles and thereby promoting healing. Improved circulation has a full range of health benefits for the body. When you face something as difficult as injury recovery, the mental health benefits of massage can help you get through a trying time.
After an injury, massage can rehabilitate soft tissue, reduce pain and inflammation, and promote mobility. Special types of massage can also benefit athletes, pregnant women, older adults, and children. Like chiropractic, massage offers holistic healing without the use of medication.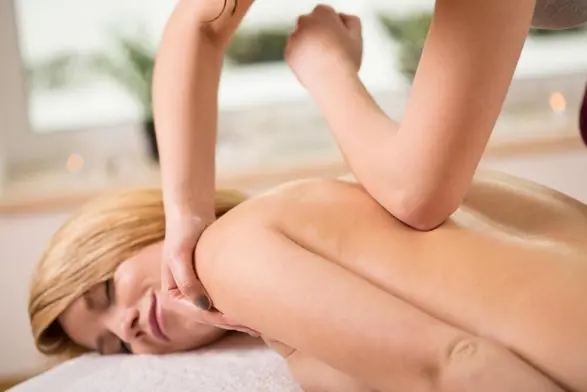 Why You Should See Our Los Altos Chiropractor and Massage Therapist
Rather than recommend you get massage or chiropractic to soothe an injury, we recommend that you get massage and chiropractic - together! These two therapies not only speed the pace of healing when you combine them, they complement one another.
Chiropractic works on your nervous system and your bones - your skeletal system. A Massage can address muscles and bones - the musculoskeletal system. When you see both holistic care providers, you get a more comprehensive treatment of injuries than if you saw just one of these providers.
Your massage will help you relax and prepare your muscles for our chiropractor in Los Altos. For example, if you have a shoulder tear, massage will loosen tight muscles. Next, our chiropractor will adjust shoulder ligaments using the space created by your massage therapist. When your muscles are loose and not tense, your body can hold a chiropractic adjustment longer. As a result, you will enjoy less pain in between adjustments and you will even heal faster as a result.
Generally, our Los Altos chiropractor recommends that you schedule a massage before your chiropractic adjustment to warm up the muscles and ligaments prior to the adjustment. However, our massage therapists can also treat you after you have been adjusted if it is necessary.
Would you like to set up a massage therapy or chiropractic appointment? If so, please browse our menu of massage services to get started.